Welcome to The Movie Video & Screen Awards
10th MVISA AWARDS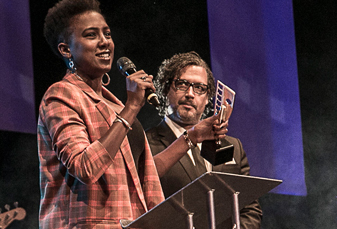 The Annual Movie Video & Screen Awards took place at the ICC on Sat 29th October, The event marked 10 years of celebrating black actor's achievements in the UK, and started at the Park Regis Birmingham with a champagne reception sponsored by the hotel where the celebrities and VIP guests mingled and greeted each other. A fleet of luxury vehicles were provided by LSH Central Mercedes of Birmingham who chauffeured the VIP guests to the ICC. Once at the ICC the red carpet reception was abuzz with adorning fans and well-wishers who came to see their favourite stars honoured. Upon entered the hall guests were met with a spectacular view of the Union Black flag embedded with the MVISA logo. Tables were exquisitely decorated and trimmed with gold and diamond bottles of champagne provided by Bottega. Guests were treated to a delicious Michelin style three course meal. The Awards commenced with a spectacular opening, with a celebration of colour, song and dance with over 50 artists taking part with flamboyant carnival costumes and dance routines. The rest of the night progressed with awards going to the nation's favourite actors and programmes, Don Warrington MBE received a lifetime achievement award for his legendary work over the years. Also receiving an achievement award was Hollywood actor Nonso Anozie for his accomplishments and contribution to the industry. Stellar performances were enjoyed from Chyna Whyne, Zara Zykes, Lurine Cato and Wayne Marshall. The audience got into the party vibe with Donae'o and Omar was the man of the night with a Neo soul version of his classic 'Nothing Like This'. The night ended with the infamous MVISA After Party which saw over 500 people in attendance at the Park Regis Birmingham as the revellers partied to the break of dawn as there 'ain't no party like an MVISA party'. Our 10th year was the most successful of all years and a great way to celebrate 10 years of the Movie Video & Screen Awards. #iluvmvisa10
---
TABLE PricES
An evening of celebrities, beautiful people, stunning performances, music,
fine dining and yes the 18ct awards ceremony.
Everyone realises that good food great entertainment and fantastic company are the main ingredients for a good night out. Now you know where all of the above and more can be found it's time to book your 10th MVISA Awards tickets for 29th October @ the ICC Birmingham.
---